Our Pacific Property is In Conquista Agraria
Conquista Agraria is convienently located on the Pacific Coast -- right off the main paved road of Hwy 1 -- less than an hour northwest of La Paz and the International Airport.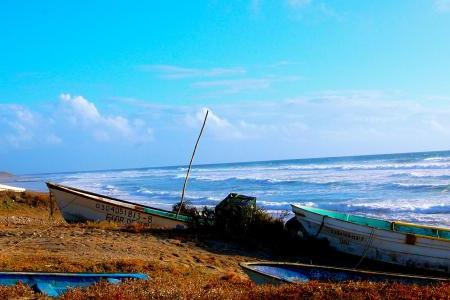 The small town of Conquista Agraria is a fishing and farming community of about 1,000 people. The expat community here makes up about 30 percent of the population. The rest of the community is Mexican – the kindest, most family-oriented people you'd ever have the good chance to meet.
Families shopping at the local store pay for their goods with their good word as the owner tallies their items in a notebook. It's the honor system — the understanding they'll bring in the cash after they sell their fresh fish at the markets in La Paz.
Local fishermen catch and sell red snapper, lobster and other ocean species that thrive just off the shore of the Pacific. Both are sources of income to this community and are trucked daily to La Paz and distributed throughout Baja, Mexico and the U.S.
The Mexican Government has brought power to the area, and the Baja Dream Properties are rich & abundant in natural aquifers. This is unspoiled land, unsurpassed in its natural beauty. And an amazing value - best prices in the area -- bar none- for beachfront and ocean view property. 

Pacific Coast Beachfront property ( $75K each) & large, Ocean View parcels -- each 50 to 350 acres (starting at $4K)

.